Lumix 8mm Fisheye Lens
Lumix 8mm Fisheye Lens
Aug 07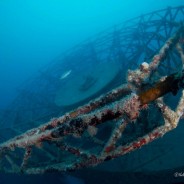 The Panasonic Lumix 8mm Fisheye lens is a fantastic wide angle lens, which allows you to be able to capture large scenes in your image such as this huge satellite dish on the wreck of the Vandenberg in Key West.
We are a huge fan of this lens for dramatic shots. It can be used on any Olympus or Panasonic micro-four thirds camera like the PEN E-PL3, OM-D E-M5, or Panasonic GX1. Recsea, Olympus and Nauticam make mirrorless camera housings.
Lens Tips – The lens has a 180 degree diagonal angle of view. Photos are very sharp, and focusing is fast with most cameras. It is recommended to use two strobes, and you should avoid placing the strobes in the  upper right or upper left positions, since there will be no dome shade to protect the camera from flare from the strobe.
Other lens choices – the Panasonic 7-14mm and Olympus 9-18mm lenses are other choices. The 7-14mm is useful for a great topside landscape lens, and the 9-18mm is less wide and easier to shoot with. But neither will result in photos that are as dramatic as with the 8mm fisheye imho.
There is a much more detailed Panasonic 8mm fisheye lens review on the Underwater Photography guide.