Packing your ThinkTANK International Bag
Packing your ThinkTANK International Bag
Sep 04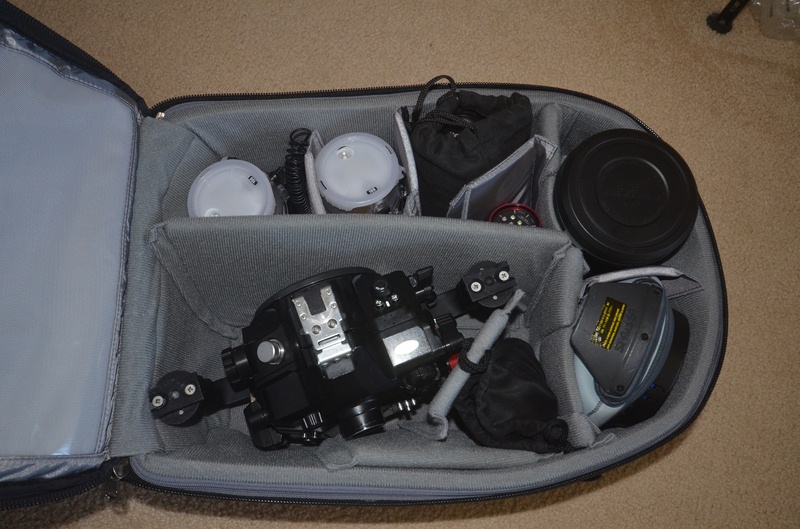 Packing your ThinkTANK International Bag
By Scott Gietler
We receive questions several times a week on how to pack a camera rig for airline travel. Underwater photographers travel with a lot of gear, whether shooting compact, mirrorless or a DSLR. The gear is too fragile to check and we can't afford the risk of lost/delayed baggage, and most airlines have strict baggage weight restrictions.
Enter ThinkTank's Airport International 2.0 Roller Camera Bag. The photo below shows how I pack the bag for airline travel. My camera body is placed inside the housing, next to both strobes, macro and wide-angle ports and two lenses. There's plenty of room for an additional lens and accessories like sync cords, fiber optic cables and a lens cleaning kit. The padded dividers are held in place by Velcro and allow for custom organization within the bag. Strobe arms, and additional cords and chargers go into by checked-in bags.
My personal item is a TimBuk2 TSA-friendly messenger laptop bag, which I use to carry my laptop, power cord, 2 additional lenses (wrapped in this bubble wrap), a book, paper, pen and other items I like to have with me under the seat. The compact size of this bag doesn't draw attention when checking in for flights with a carry-on and personal item. And the best thing is – I don't even need to remove my laptop for TSA, you simply open the bag!
This bag combo works for me and many frequent dive travelers I know. I hope it helps you on your next trip! You can purchase the Thinktank bag here, and read our Thinktank customer reviews here.