Avoiding Excess Airline Baggage Fees
Avoiding Excess Airline Baggage Fees
Nov 18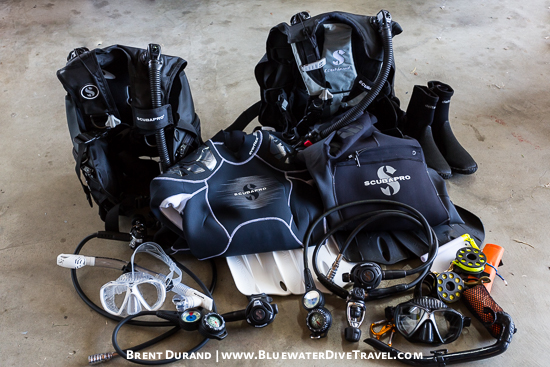 Scuba divers travel with a lot of gear. And underwater photographers travel with even more gear than regular divers.
When traveling to a remote dive destination it's easy to rack up the overweight charges, but with some smart packing you'll be flying through the airport before boarding the plane. These tips worked across Papua New Guinea and Indonesia this fall.
1)  Keep your checked bags under 23kg.  I have one bag with my dive gear and another with some clothes and extra camera gear (accessories like chargers, 9″ dome port, cleaning kits, mini tools, etc) packed in soft camera bags. *Note that for destinations like Fiji you're limited to only one checked bag.
Tip: Pack your clothes in a dry bag inside your dive bag. You can use that dry bag on the boat once at the destination.
Tip:  I pack a smaller Lowpro bag with chargers and accessories for flying, then use that as my on-boat camera bag at the destination.
2)  Use inconspicuous carry-ons.  I use a Scubapro Cabin bag with the insert from a Dakine camera backpack as my roller. It's very small and fits in the overhead of even small prop planes. With my Aquatica housing, macro port, small dome and dual sync cord it comes in under 7kg, so if weighed it's within regulation.
3)  Use a camera backpack like the ThinkTANK Shapeshifter. This isn't a square bag that shouts "expensive and heavy" but still protects your gear. Sure it's not a bag for shooting in the field, but it's a perfect bag for traveling to dive destinations.
4)  Use a vest.  I load the my vest with camera bodies, lenses, I-Torch video lights, and even strobe arms and batteries on small planes. This cuts a lot of weight out of your checked bags. Just be warned that with so much weight on you, it's tougher to climb stairs and even to turn around on shuttles. But you should be in shape for your dive trip already!
5)  Smile and speak the language. A genuine attitude, smile and a few local words will go a long way during check-in.
– Brent Durand