ThinkTank Rolling Bags Comparison
ThinkTank Rolling Bags Comparison
Jun 20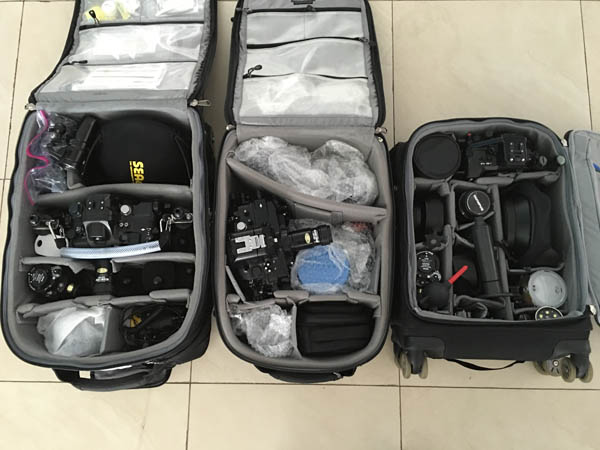 Many customers love the Thinktank rolling bags for travel, but how do you pick the right one?
With a variety of options, its best to look at the size and features of each bag to help you determine what you need. Check out the three top Rolling Bags below and a sample packing configuration to help you decide which will be the best for your camera set up!
Why we love the Thinktank Bags
These bags don't look like a heavy camera bag from the outside. They could easily be seen as a standard carry-on piece of luggage, meaning there's a chance you may sneak through without being weighed in some locations. In addition, they are well padded and come with removable divider inserts, allowing you to pack exactly as you need for your camera set up. Special pockets for laptops and accessories make these bags great as an all in one carry-on.
Rolling Bag Line Up
Thinktank Airport International – This is the go to bag for many of our customers. It is designed to meet international carry on requirements, making it a no brainer for all dive travel. In addition it offers a large interior, capable of holding a DSLR system. The bag now features a dedicate laptop / tablet pocket and user replaceable parts (like wheels, should you have an issue). This is Scott Gietler's bag of choice!
In this bag:
Sea & Sea D810 Housing (with D810 camera body inside)
Zen Mini Dome
Dual YS-D2 Strobes
Sola 800 Photo Light
Nikon 16-35mm F4 Lens
Nikon 60mm Macro lens
(arms & clamps packed in separate, checked baggage)
Thinktank Roller Derby – This bag is very similar in size to the International version (now that the International offers a laptop pocket!), but comes with 4 wheels instead of two. Four wheels make for a smoother, lighter push with more maneuverability. In addition, its easy to stack a lightweight backpack or shoulder bag on top for less fatigue when moving through the airport. The four wheel design does mean a little loss of space inside the bag, but it is still fairly large! This bag will easily fit a full mirrorless system, and can fit most of a DSLR system too. Kelli Dickinson loves this bag!
BUY THIS BAG!
In this bag:
Nauticam OM-D E-M1 Housing* (with Olympus OM-D E-M1 camera body inside)
Olympus 7-14mm PRO Lens
Olympus 8mm Pro Fisheye Lens
Olympus 75-300mm Telephoto Lens
Nauticam 7″ dome port with adapter and zoom gear
Nauticam 4″ Dome port and extension ring
Dual YS-D1 Strobes
Dual Sola 2000 Video Lights
GoPro with Red Filters
Backup hard drive, batteries, chargers, spare O-rings, grease and other accessories in zippered pockets
Some arms / clamps pack in this bag, the rest packed in checked luggage.
*The handles were removed from the housing to make packing easier and packed separately.
Thinktank Airport Takeoff – this is one of the latest bags from Thinktank. The cool thing about this bag, is that it is convertible! This two wheeled, rolling bag turns into a backpack, with comfortable padded straps, when you need it! Slim and designed for traveling it meets most international airline requirements, has a laptop/tablet pocket and a customizable interior like all Thinktank bags. It is comparable in size to the Airport International Roller.
In this bag:
Nauticam A6500 Housing (camera body can be stored inside housing)
Nauticam Battery Pack for A6500
Nauticam Macro Port 45 and Zoom Gear for 16-50mm Lens
Dual YS-D2 Strobes
Venom 38 Video light with spare battery
Spare camera battery, o-rings, 2 x 5″ arms, 2 x 8″ arms with Six Floats and more accessories too!
Note – this customer even slid the Cinebags Work Mat into the front pocket!
Comparison of three Thinktank bags, packed for a trip to Galapagos! (Airport Security*, Airport International & Roller Derby)
*At this time we don't stock the Airport Security as it is too large for many international destinations, however it can easily be special ordered, just give us a call!