Olympus' Secret Zoom Function
Olympus' Secret Zoom Function
Feb 17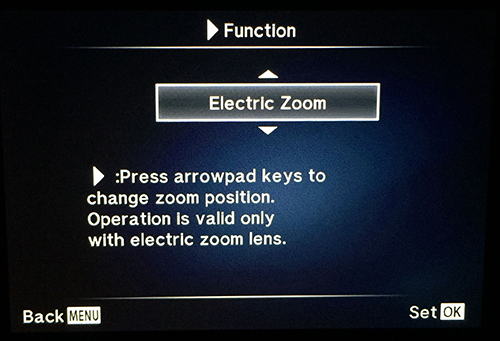 Olympus' mirrorless cameras have become extremely popular over the past couple of years thanks to the high quality construction and ever improving features. Here's a quick tip that you may not yet have heard about.
With some of Olympus' higher end bodies (including the OM-D E-M1, OM-D E-M10 and I believe the PEN E-PL7) there is a new feature buried inside the bowels of the lengthy custom menu that proves to be extremely useful underwater. This mode is the "Electronic Zoom". When paired with a newer EZ function lens (including 12-50mm and 14-42mm EZ lenses) this feature allows you to control the zoom via the rear arrow key buttons on the camera body. *Currently not available on the OM-D E-M5.
Extremely useful with the Olympus 12-50mm, it allows folks with the Olympus housing or those not interested in purchasing the expensive Nauticam zoom gear the ability to use the full zoom range of the lens. Without this function users are limited to using the built in "UW Modes" which will automatically set the lens at 12mm or 50mm, but gives no access to the intermediary focal lengths, in addition to changing other camera settings you may have preset.
How to Activate:
On a PEN camera make sure to activate the "Custom Menu" which is hidden by default. If using an OM-D Camera, skip to the next step.
Menu -> Set Up Menu (wrench icon) -> Menu Display, click OK. The custom menu is the small cogs icon, click the right button, then the down button followed by OK to activate the menu.
Once the Custom Menu is active you can use it to assign the Electronic Zoom function to one of the arrow keys (either right or down).
Menu -> Custom Menu ->
B: Button/Dial -> Button Function ->
Specific Arrow (right or down, choose which one you prefer) -> Electronic Zoom -> OK to confirm.
Once the Electronic Zoom is assigned to one of the rear arrow key buttons you can engage it by simply pressing that button. Once activated using either the up /down or right / left arrow keys will allow you to zoom in and out respectively. Once you've zoomed to the focal length you prefer select OK to close the controls.
NOTE: One major benefit for the 12-50mm lens underwater is the built in macro mode. Currently the Nauticam zoom gear is the only option that allows full access to the macro mode underwater. None of the built in zoom control options from Olympus allow that mode to be activated.