Shooting the Olympus M.Zuiko 8mm Fisheye Underwater
Shooting the Olympus M.Zuiko 8mm Fisheye Underwater
Jul 30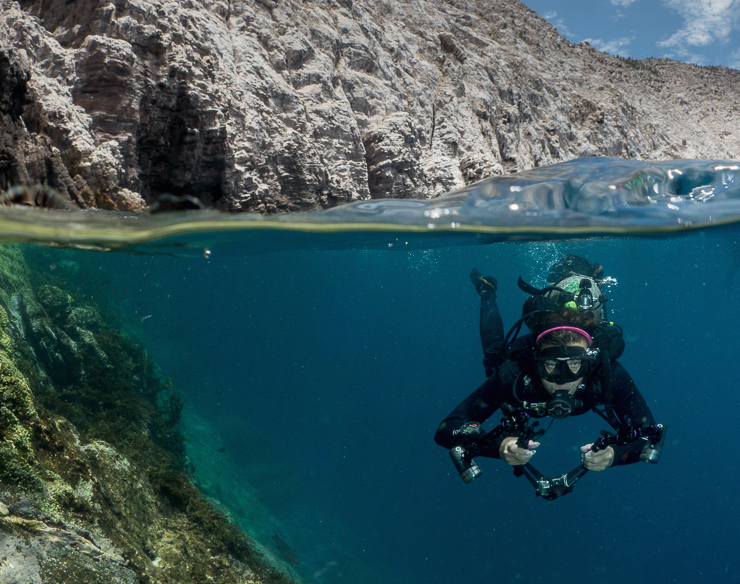 Olympus has recently revamped their mirrorless line of lenses, releasing several new options that give underwater photographers more variety and better glass for capturing the world beneath the waves. One of these new lenses is the Olympus M.Zuiko 8mm Fisheye F1.8 PRO lens. This lens provides direct competition to the extremely popular Panasonic Lumix G 8mm Fisheye F3.5 which just about every micro-four thirds underwater shooter get's their hands on.
Let's look at at the differences:
Panasonic Lumix G 8mm Fisheye F3.5:
$675
F3.5 – pretty fast speed
Angle of view 180º
Minimum focus (3.94″)*
Weight .36 lbs
Length 2.04″
Olympus M.Zuiko 8mm Fisheye F1.8 PRO:
$999
F1.8 – really fast!
Angle of view 180º
Minimum focus (4.72″)*
Weight .69 lbs
Length 3.15″
*Note: Minimum focus distance is measured from the sensor plane, so effectively the new Olympus has a closer focus distance of only 1.57″ from the front of the lens since it is longer in length. The panasonic will be about 1.9″ from the front of the lens.
Both lenses work great for underwater photography. I recently returned from a week in the Sea of Cortez where I had the chance to use the 8mm Fisheye PRO from Olympus. I was definitely impressed, as a long time lover of the Panasonic 8mm, I was tempted to switch for one main reason. The lens is longer, which I found made it much easier to position my strobes behind the dome and avoid excess glare. Having that little bit of length gave me more flexibility with lighting positions which was nice.
I think both the Panasonic and the Olympus 8mm Fisheye's work fabulously underwater. If you are okay shelling out a few more bucks for the Olympus, want the best quality glass you can get for the micro four thirds camera, or shoot a lot of ambient light, then the new Olympus M.Zuiko 8mm Fisheye PRO is the way to go.
The Olympus 8mm Fisheye PRO is compatible with Nauticam, Aquatica and Olympus OM-D Housings. Olympus PEN style housings have yet to be tested but should be compatible with a combination Zen Port and extension. The lens was announced in May, and is scheduled to begin shipping at the end of August 2015. Email or Call us with any questions!