Bonaire: A Hunt for the Elusive Red Frogfish
Bonaire: A Hunt for the Elusive Red Frogfish
Jun 26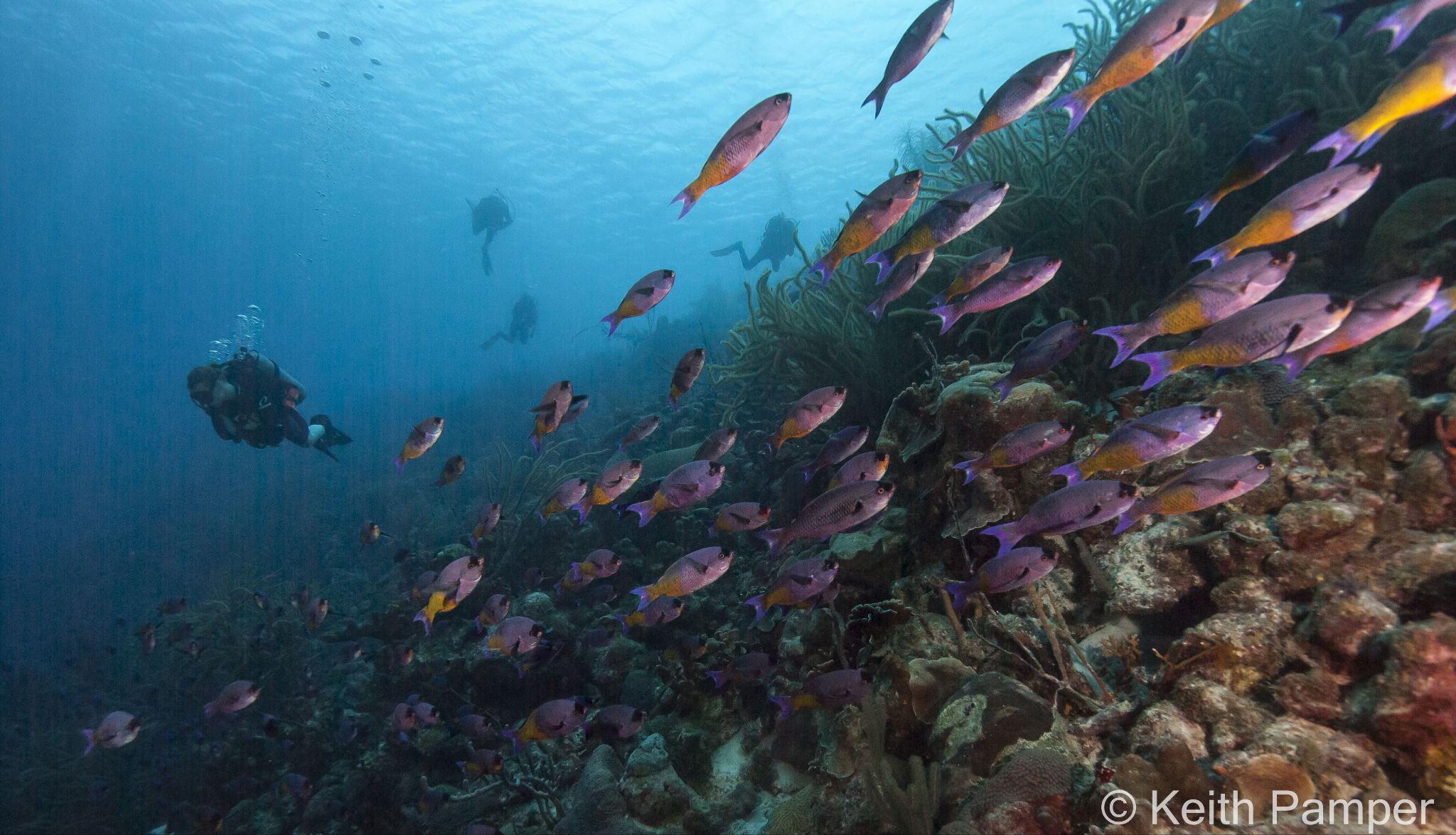 Story by Jonathan Lavan.  Photos by Jonathan Lavan and Keith Pamper
I arrived in Bonaire for a week-long dive trip, bound and determined to find and photograph one of their famous frogfish. Despite the dive staff's assurances that it was unlikely that I would find the elusive red frogfish (or any frogfish for that matter), what they didn't know was that I had a secret weapon: my dive buddy Dave. Dave is from southern Illinois and has the temperament, tenacity and patience of a gentlemen farmer…but more on the hunt later.
All the shore dives on the Leeward side of the island are based at the southern tip (where the kite boarders hang out) up to the north end where the National Park is, and are marked clearly with a painted yellow rock or two with the name of the dive site on it. There are a few dive sites on the windward side of the island but, as you can imagine, they are only for the truly scuba crazy.
We had been diving steadily for four days, averaging four to five dives a day. Our DM, Alejandro, had tried tirelessly yet unsuccessfully to locate the elusive red Frogfish, calling in favors and sifting through local chatter for a small hint to its location. Unbeknownst to me, my dive buddy Dave had been following his own independent line of inquiry in his usual laconic, low key style.
On one of our very last dives Dave suggested we dive Calabas Reef/Divi. This was an in-town dive off of a very average-looking pier. Dave and I, along with our other two buddies, actively and carefully searched the area for perhaps twenty minutes to no avail. I finally gave up and got distracted trying to get some good shots through my diopter of a Squat Anemone Shrimp.
I was struggling to get the shot when Dave came up and signaled to me to follow him. Let me stress that he did not act remotely excited – he just acted like Dave. I had been working on setting up the squat anemone shrimp shot for some time, even changing out my focus light (which had just ran out of juice), so I waved him off. After getting what I thought was a good shot I swam over toward Dave who was some distance off just floating serenely. I noticed one of my other buddies Keith shooting away at something that had obviously peaked his interest. I watched for awhile and when he took a break I gave him the "what gives" signal. He pointed to a red sponge on the coral head. I signaled that other than the red sponge I didn't see what he was trying to show me. Please understand that at this point I had completely given up and wasn't even thinking about frogfish! Finally, in desperation, Keith pointed at the red sponge and then took his right hand with thumb and pinky finger pointing akimbo and made something hop down his left arm. Suddenly I had tunnel vision as it all finally came into focus for me: I saw the eye, I saw the mouth, I saw those great feet-like fins. The red sponge was the elusive red Frogfish!! Eureka!!!
Well of course I started shooting like crazy using every possible setting and angle and combination of settings and angles. I even remembered to take a moment to just look at the frogfish with my eyes instead of the view finder, and marveled that such a wonderful creature could share this planet with us. The battle had been won. We finished out the day with a cold beer in our hands happy to have had the adventure that led us to the elusive red Frogfish of Bonaire.
Check out more of Jonathan's photography at www.underpressure-spurdog.blogspot.com.
Read about Bluewater Travel's top ten Bonaire dive sites here.