Todd Winner's Wednesday Photo – Reef Squid and Salt Pier
Todd Winner's Wednesday Photo – Reef Squid and Salt Pier
Feb 20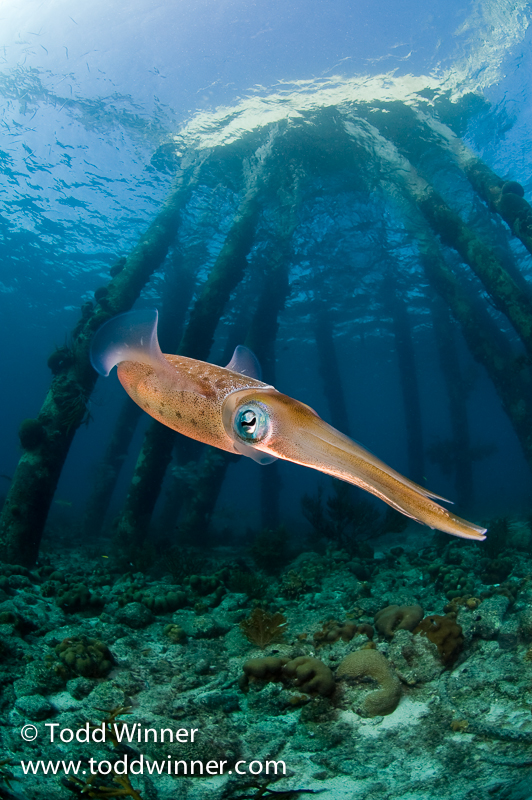 Text and image by Todd Winner.
This has been one of my favorite images for a long time. In fact, it was taken nearly nine years ago. It demonstrates a style (foreground – background) that I constantly use in many of my wide angle images today. Often it's not enough just to have a pretty image of a fish, we need a secondary subject to keep the viewers attention and add some depth to the photo. Silhouettes are an obvious choice for secondary subjects. Diving around piers, rigs and wrecks can offer great opportunities for background subjects, but using a diver, marine animal or even the silhouette of the dive boat can be just as effective. Just remember you need a strong distinctive shape to create a good silhouette.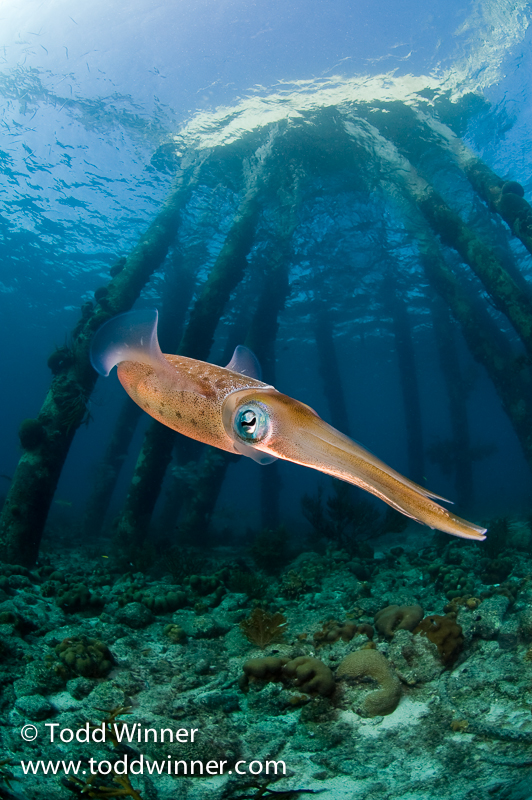 Reef Squid at Salt Pier – Nikon D100, 10.5mm Fisheye lens, 1/160, f/11, iso 200, 2 ikelite 200 strobes
This image was taken in Bonaire at the salt pier with a Nikon D100 and a 10.5mm fisheye. I had recently switched from shooting film SLRs to the D100 and I was still finding it difficult to embrace the digital format. I hated it! I came upon the reef squid early in the dive and it soon became interested in its own reflection in my port. It allowed me to get the camera within inches of its tentacles and even touching the port a few times.
At first encounter, the pier was at my back so I maneuvered around to the other side of the squid to capture the pier in the background. In total, I took about 25 frames. It was this image that really opened my eyes to the advantage of shooting digital underwater and not being limited to only 36 frames on a dive. Without the pier in the background, this image would not be nearly as interesting. Also, shooting a small animal in mid water leaves very few opportunities for shadows in the image. Without shadows images start to look flat and one dimensional. Adding a silhouette or secondary subject to the background brings depth and two dimension back to the image.