Nauticam Announces D600 Housing
Nauticam Announces D600 Housing
Dec 11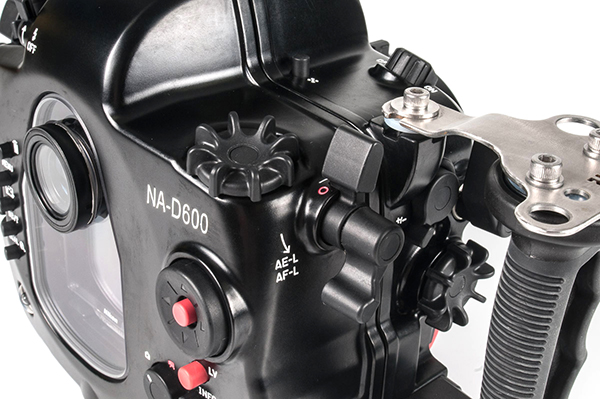 Nauticam officially released the new housing for the Nikon D600 today and as usual it looks great! Check out some of the great features….
Nauticam NA-D600
Nikon designed the D600 to appeal to every enthusiast or pro who longed for a compact, friendly and affordable full frame camera. Nauticam has engineered the NA-D600 housing so that it is equally friendly and compact, but has every ounce of rugged reliability and features that pros demand. Holding the nicely proportioned NA-D600 by the comfortable rubberized grips; it seems impossible that a 24mp full frame camera resides inside that is capable of out-resolving every camera in it's class save its bigger brother: the D800.
Well Designed, Easy to Use Controls
The NA-D600 incorporates dual paddle assemblies for right and left thumb. These paddles instantly access key features: Video Record and AE-L/AF-L on the right and Playback and ISO on the left. Most photographers will quickly activate them by feel while never releasing grip or looking away from the viewfinder. The housing is also clearly designed to embrace both the still and video shooter and switching back and forth is intuitive and near seamless with the live view (LV) button and live view selector. Nauticam has pioneered a new release (drive) mode control utilizing the D600's ability to lock shooting modes. This control functions independent of the exposure mode dial that it sits beneath on the camera body. Being able to shift into the D600's quiet mode (much quieter than the D800/D4) and lock it could be a real boon for pelagic shooters close to shy subjects. Front and rear command dials are larger and easier to engage than ever before – even with gloves.
Change Ports and Lenses with Ease
Port changes have never been simpler than utilizing the Patented Nauticam Locking Port Release. No wrestling, no twisting, no misalignment – just seat and lock. Lens changes are also easily accomplished without removing the camera from the housing via the lens release button logically accessed on the housing front. The lightweight, rugged Nauticam handles are generously contoured with a durable over-mold process of comfortable non-slip soft touch rubber. Virtually any hand size can be accommodated with spacers available for cold-water glove use. All Nauticam housings are machined from a solid block of seawater resistant aluminum alloy and then hard anodized making them impervious to corrosion. Hardware is marine grade stainless steel. Clear acrylic windows are protected with a scratch resistant coating.
Fiber Optics or Sync Cord, its up to you.
Lighting control is key to any successful underwater photography system. The NA-D600 delivers professional diversity to meet every challenge. A single Nikonos sync port is included with each housing as standard equipment. S-6 or Ikelite style sync port bulkheads are available optionally, and can easily be installed or removed in the field. The Nauticam system fiber optic cables are compatible with Inon and Sea & Sea strobes and provide reliable triggering with no electrical connections to maintain or flood.
Options for the Professional Videographer
If the video capabilities of the D600 are of primary importance, Nauticam's NA-DP4 housing for the SmallHD Monitor can take video performance to another level. The monitor housing easily mounts to the top of the NA-D4 and utilizes the optional HDMI Bulkhead for true HDMI connectivity. Utilizing DP4 features like Focus Peaking, Focus Assist, False Color, 1:1 Mapping and DSLR Scale, this larger monitor vastly improves composition, focus capability and exposure visibility.
Conclusion
All in all it looks like another well designed housing from Nauticam. With more features than you can imagine, and endless ways to make the system work perfectly for you, the NA-D600 housing will be the perfect companion to your Nikon D600 camera. Housings are now available for pre-order, and should be shipping within the next 2 weeks.
Specifications
Depth Rating: 100m
Dimensions (with handles mounted): L 350mm x H 189.5mm x D 132mm
Weight: 2.7kg
Standard Features
Patented Locking Port Release Lever
Sensitive Two Stage Shutter Release Lever
Optical Strobe Connectors
Rubberized Ergonomic Grips
1 Customizable Accessory Ports (allowing use of optional Nikonos, S6, or Ikelite Strobe Connectors, Hydrophone, Video Out, or Remote Control Connectors)
Embossed Control Function Labels
Quick Release Camera Mounting Shoe
Lens Release Button
Four Strobe & Accessory Base Mounting Locations
Complete Access to All Key Camera Controls
Stainless Steel Support Brackets for Handles
.66x Optical Pickup Finder (Enhanced 180 deg and 45 deg Viewfinders with External Diopter Adjustment optional)
Audible and Visual Leak Alarm