Great Time on the Bluewater Photo Black Sea Bass Trip
Great Time on the Bluewater Photo Black Sea Bass Trip
Aug 26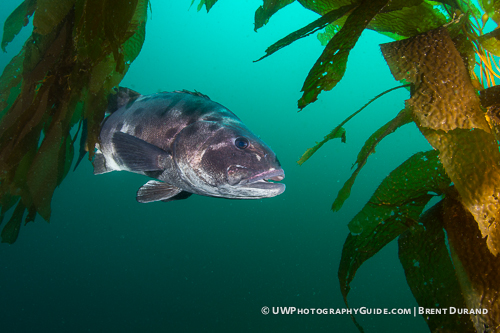 Trip Report
Black Sea Bass with Bluewater Photo
By: Brent Durand
Bluewater Photo went to dive Catalina yesterday and look for Giant Sea Bass on the Pacific Star.  Starting the day under a thick marine layer, we soon motored into sight of Long Point and were greeted by the sun, which stayed with us all day. We had a great group of divers joining an excellent boat crew, with divers and photographers of all levels anxious to get in the water. Below, a diver does a giant stride into the water at Long Point.
Our second dive was at Goat Harbor, which is known for Giant Black Sea Bass, and it didn't disappoint. Most divers were able to see at least one BSB with the highest report being 10!  Dive three was another fun one at the Rock Quarry with great structure and sunlight twinkling through the kelp canopy, surrounded by schools of blacksmith and frisky garibaldi. We wrapped up the day with a Bluewater Photo raffle, where 4 divers won cool prizes.
If you're in SoCal and haven't joined one of the Bluewater Photo trips, you definitely should!  There are several more great photo trips this year, with a full schedule on the Bluewater Photo Trips page.