My favorite dive series – Hammerheads at Wolf Island, Galapagos
My favorite dive series – Hammerheads at Wolf Island, Galapagos
Apr 22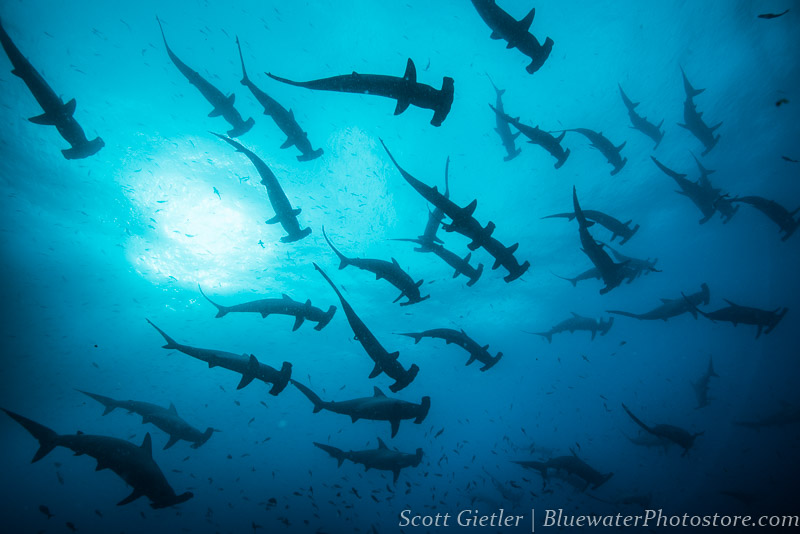 This article is the first of a series on "my favorite dives". I've been lucky enough to dive at some of the best dive locations in the world, with some of the most fantastic aquatic animals. Picking just one is not possible – hence the need for a "my favorite dive" series.
Flashback to Wolf Island, Galapagos. Wolf Island is one of, if not the best, places in the world to see hammerhead sharks. Wolf Island, along with nearby Darwin Island, are the two most remote islands of the Galapagos Islands. In fact, you can go days without seeing another boat or human there, except for the ones on the boat with you.
It takes about 14 hours to travel to Wolf from San Cristobal Island. The water is warmer at Wolf and Darwin than at the other Galapagos Islands, the marine life is prolific, and the currents are strong. Dolphins, whale sharks, eagle rays, and several shark specials are seen on a regular basis. Red-lipped batfish are found on the back side of the island. Wolf Island is named after a German geologist Theodore Wolf, who studied the Galapagos Islands in the late 1800s. There are no wolves or wolf eels here.
But the main attraction is the schools of hammerhead sharks. The hammerheads are there year-round, often coming to shallow water to get cleaned by butterfly fish. They are also very skittish.
Getting a close-up or a silhouette shot is not easy. They are afraid of divers, bubbles, and cameras – and they often swim quite deep, meaning you are looking down at them, into the dark depths.
On this particular dive, the schools were thick. They were coming slightly shallower over large rocks, and when I got below them, their beautiful silhouettes would fill the sky. I watched these majestic beasts dive after dive – we had 4 full days of diving at Wolf and Darwin.
Some of my most memorable dives ever were in the Galapagos. I can't wait to go back. Stay tuned for "My Favorite Dives", part II, featuring a huge manta ray!
For another great dive destination, read about the best diving in Africa here!