Ikelite Wide Angle Port Grants Access to Wet Lenses for the Canon G-15
Ikelite Wide Angle Port Grants Access to Wet Lenses for the Canon G-15
Feb 07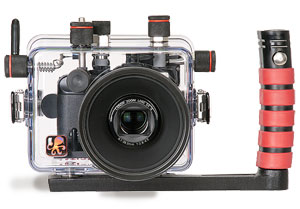 Looking to use a WET wide angle lens with your G-series Canon camera? In all housings, the port is too long to make effective use of wet wide angle lenses. If you're using the Ikelite housing, however, you now have access to wet lenses via their wide angle port.
By swapping the existing flat port with the shorter, flat, wide-angle port you gain access to a number of wet wide angle lenses, such as the Inon H100 Type 2. The shorter port means the wet lenses are placed closer to the camera lens when fully zoomed out, limiting or completely removing vignetting depending on the wet lens used. However, shortening of the port also limits the zoom some, but you can still zoom out to 85mm without issue, just over 3/4 of the full zoom range.
It is important to use care when zooming with the short port, as going past 85mm will cause the lens on the camera to hit the port glass, creating a lens error that will shut down the camera. However with practice, or by customizing the rear dial for "step zoom" (see page 168 in the Canon user manual) you can control the zoom with ease. The step zoom function is fantastic as it allows you to step the zoom up to specific focal lengths, so you never have to worry about going too far. We found during tests that using a diopter at 85mm gives you just a little less magnification as using the diopter at full zoom in the standard port, so you don't sacrifice much in terms of macro when using this wide angle port.
All in all the Ikelite Wide Angle Port with 67mm threads for the Canon G15 looks to be a great solution for being able to use great WET wide angle lenses and allows for more versatility underwater with your Ikelite housing and Canon G15.
Note: Keep in mind that these examples are all from top-side tests and that underwater images will have added magnification due to refraction causing the image to be slightly less wide.  To get identical results would require the addition of a dome port, like the Dome Unit for the Inon H100 lens.