Manatee Sessions in the Crystal River
Manatee Sessions in the Crystal River
Nov 11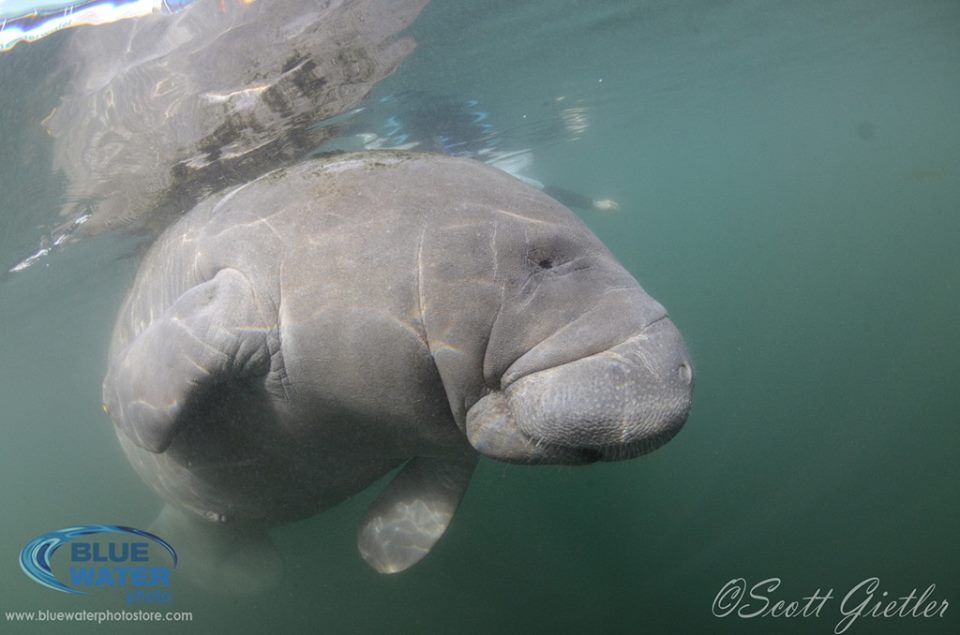 The DEMA tradeshow brings the dive industry together for 4 days of business – travel, gear, education and celebrating our sport. This year I came to the show psyched to get a lot of work done (which we did) and finished the show itching to get in the water (I was dry for 5 days after all!). Luckily, my colleagues Scott, Kelli, Katie and I anticipated this and set up morning of swimming with the manatees in the Crystal River, 90 minutes from Orlando.
A bleary-eyed wake-up call eventually had us on a pontoon boat motoring slowly down the Crystal River National Wildlife Refuge, fingers crossed in hopes of finding many manatees. After all, there are no guarantees on seeing wild mammals that go where they please. Our first spring visit left us with a mother and calf that were on the move under some docks, so we quickly opted to get back in the boat and continue the search. Next we found another manatee just minutes away and stealthily dipped into the water. The manatee was feeding on freshwater plants with a loud ripping and crunching, but vis was about 3 feet. Not good for picky photographers.
Our day really began at another spring where we found a mother and calf, a mating heard of 4-5 manatees and several others, including some new visitors from the Gulf. Manatees arrive at the springs during the winter months to stay warm in the calm, clear water.
The experience was amazing. We moved slowly and all four of us had special moments with the inquisitive creatures. We never chased (what creature would come up to you if you chased it?), we never dove (the light is better at the surface), and we never touched the manatees or went in their way, instead letting the friendliest ones approach us.
The day finished with warm hot chocolate and a pleasant ride back to the dive shop. Special thanks to Bird's Underwater and our guide, Dave. If you haven't had a chance to swim with manatees, definitely put it on the list for your next Florida visit.
Below are a few of our photos. We'll be publishing a full photo essay on the Underwater Photography Guide, so make sure to follow the UWPG Facebook page for updates in the next couple days.
–  Brent Durand