Shooting with a Remote Macro Snoot
Shooting with a Remote Macro Snoot
Mar 01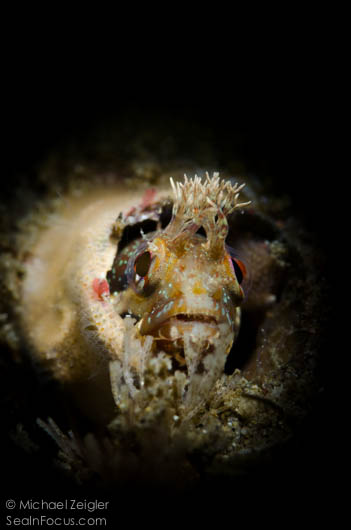 Text and images by Michael Zeigler
Always one to try something new, I decided to try my hand at using a remote macro snoot. With my home-made snoot from the plumbing aisle of Home Depot, I headed out to Diver's Cove in Laguna Beach in search for all-things tiny. As luck would have it, I found a onespot fringehead within five minutes of dropping down. This was the first of this species I had ever seen, and I spent a majority of the dive with the little guy.
In order to ensure a black background, I did my best to get low and shoot up against as much open water as possible. Luckily this fringehead found a home on a little ledge near the sand, which made this somewhat easier to do. I set my shutter speed to 1/320 and my aperture to F18 for plenty of depth of field with my 60mm macro + 1.4x teleconverter.
Moving in closer without my focus light turned on, I was able to capture the full-frame images below of the skittish critter. Having the strobe off-camera makes using a macro snoot a lot easier when compared to having the snooted strobe attached to the housing. This allows you the flexibility to position the snoot as desired and shoot from different angles without losing your mind. The latter may still happen, just not as quickly.