Thousands of Bat Rays!
Thousands of Bat Rays!
Oct 01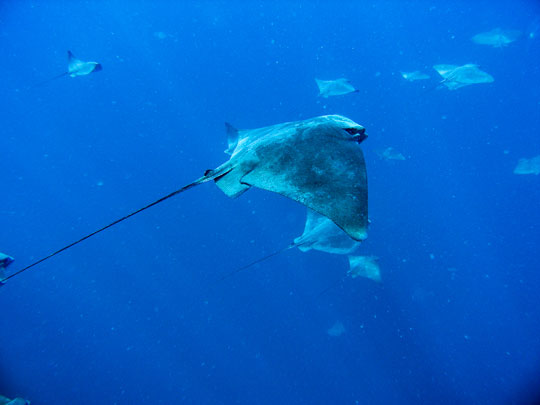 On the fourteenth of September, during the SoCal shootout, Andy, Patrick and Cindy went out in search of getting some shots to submit to the contest.  Little did they know, they were in for quite an amazing experience.
They had run into a huge Mola mola on the way down to Redondo Beach to dive, a mile or two off the shore of Hermosa Beach.  Around the same spot on their way back, they started to see lots of little Mola mola fins, and so started to chase them from the boat, with Patrick jumping in.  While snorkeling, Patrick said he saw a bat ray and quickly updated that to several bat rays.  "Holy Sh*t, I see thousands" were the next words out of his mouth.
True enough, Captain Andy could see thousands just hanging in the water.  Not swimming, but hanging. The boat was in about 120ft, and the bat rays were everywhere.  According to Andy, they all put some tanks on and tried to dive with them (leaving nobody on the boat with the anchor up – the boat and the divers drifted together), but the rays wanted no part of the divers and would gently swim off when approached. We assume this was a mating aggregation, but are not 100% sure.
"The cool part was diving / snorkeling with the Mola molas over this sea of bat rays" said Captain Andy.  After about 15 minutes of hanging with the Mola molas and bat rays, the trio decided to call it a day and headed home.  What an experience!
Note from the Bluewater photo staff: Patrick, Cindy and Andy are very, very  experienced divers. If they say thousands, they mean thousands! Well – at least 1,000.  They seemed very sure that there were at least 1,000. This is a very unique experience, and the first we have ever heard of such a large bat ray aggregation.
The bat ray photo was taken that day by Patrick Smith. Although he could see hundreds of bat rays at any one time, when he tried to swim closer to them for a shot, they would slowly move away, resulting in a photo that shows about a dozen bat rays.