Blue Sharks in California – amazing trip
Blue Sharks in California – amazing trip
Apr 17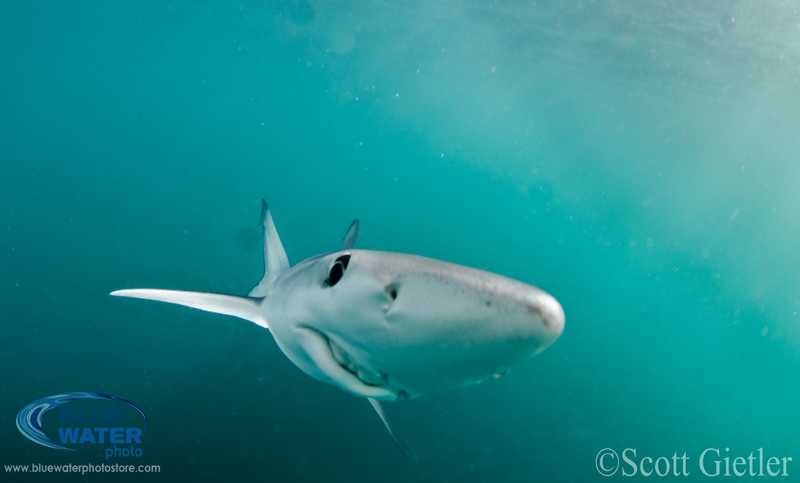 Bluewater Photo has 6 amazing blue shark trips scheduled. The first two have completed, and were amazing! Everyone got photos of beautiful blue sharks. Now the real question is – will we make it onto the best shark diving in the world list?
We went out of San Pedro on the famous 73ft "Shark Boat". Some people slept on the boat in the large bunks the night before. A great breakfast was waiting for us when we arrived.
We saw pods of Rizzo and Bottlenose dolphins on the way to our spot. Attempts to photograph the dolphins underwater were unsuccessful, but it was fun to try.
2.5 hours later, we were at the "spot". Some of us went underwater for a quick bluewater dive looking for jellyfish. However, vis was poor, and the wind was pushing the boat quickly, so it was hard to take photos. It will be better with less wind.
After we finished the bluewater photo dive, we checked the waters for blue sharks. None yet! However, we spotted a Mola mola near the boat. A couple people snorkeled over to the Mola, but it was swimming and it was hard to keep up with it. 3 of us jumped into the skiff and motored around looking for it. We found it!
Saturday's trip only had to wait 2 hours for sharks to show up. Then they stayed around the rest of the day. They had 3 sharks for 4 hours!!   We had to wait longer, it was about 4 hours when the first shark showed up. We saw 2 total, and everyone got some shots.
Captain Chris ran a great operation. Awesome crew, great food and great sharks. Special thanks to Chris, Ocean, Jeremy, and Paul. I can't wait to go again! All photos on this page were taken this past Sunday, while snorkeling in my drysuit (lots of drag!), with my Nikon D7000, Tokina 10-17mm lens, dual YS-D1 strobes.
Join us in May on one of our Blue Shark trips!