Trip Report: Sea of Cortez
Trip Report: Sea of Cortez
Aug 03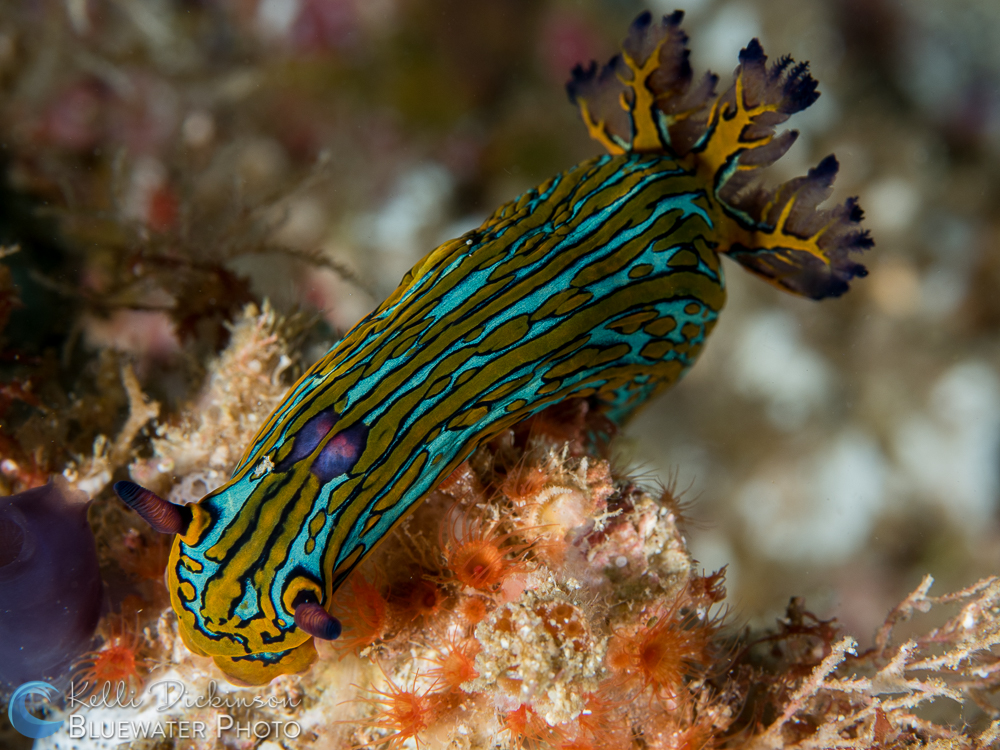 Welcome to the Sea of Cortez. Dubbed by Jacques Cousteau as the "World's Aquarium" this living sea definitely lives up to the name. Abundant life swimming through warm waters provides a unique diving experience where temperate and tropical worlds collide. From the tiniest skeleton shrimp to the giant whale shark, the Sea of Cortez provides a variety of marine encounters and incredible diving. For one week, I lead a great group of people on a photo workshop organized by Bluewater Travel.
After an easy flight from Los Angeles to Phoenix followed by a comfortable shuttle ride through the Head Out to Rocky Point service we arrived at the Rocio del Mar liveaboard.
The 110ft vessel stood waiting at the end of the dock as the crew made final preparations for our voyage. Once on board we were shown our cabins for the week and set up our dive gear on the dive deck. This is a large deck offering a spacious camera table in the middle where there was plenty of space for our group with many large cameras. Shortly we were on our way. Due to a storm that had just rolled in we had a bit of a rough crossing the first night, but after a fitful night's sleep and a few folks with sea sickness we woke up to a beautiful morning with bright sunshine and calm seas.
Our first two days were spent at Isla Angel de Guardia where we explored various dive sites including Piedra del Angel, Los Nidos, and La Vela. Water temperatures were a little cooler, around 79º on average. With the macro lens on I hunted for the many unique and colorful critters. Spread out with my fin tips resting on the sand I spent minutes watching the little blue
spotted jawfish dart in and out of holes and the orange throated pike blennies dance for mates by pushing out of their tubes and showing of their large dorsal fin and brightly colored throats. Within seconds they were back to being just a small black head poking out of the sand. Tiny gobies, wrasse, sea stars, arrow crabs, small stingrays and more were everywhere. Divers also found sea horses, vibrantly colored nudibranchs, octopus and small blennies hiding out among the rocky reef.
Between dives there was time for relaxation, photo talks and food. Quickly we fell into a fantastic schedule of dive, eat, dive, eat, etc. The chef on board, Joshua is definitely talented in the kitchen and provided our group with delicious meals prepared with a creative flare. Consistently happy to help, the crew took requests and did their best to accommodate all dietary restrictions. They were even happy to let us order "half portions" for those of us who just could not finish the full plate provided. Meals varied from traditional american style to delicious Mexican fare. From breakfasts of sausage, eggs and waffles, to chilaquiles and beans, or lunches of fresh fish filets bought from local merchants to cheeseburgers. Pork tenderloin and incredibly flavored lasagna for dinner.
Everyone agreed that the food was top notch, and of course, each dinner was followed by a delicious dessert! Twice they provided dinner up on the top Sun Deck as a fantastic BBQ with steak topped with a basil sauce one evening and carne asada tacos another. On these evenings they spread out the sides and toppings along a built in bar and everyone served themselves buffet style then sat along tables and enjoyed the colorful sunsets. Beer and wine are included with the trip and they offered Tecate (light or regular) and a variety of good white or red wines.
With the exception of the first day of diving, we completed four dives per day including two night dives. Krill was very abundant around the islands, so the nights dives were an interesting dance of krill in front of your lights which made photographing critters difficult. Many of the animals found in the Sea of Cortez are more active at night, and these two dives gave us a chance to find octopus moving around, anemone's fully stretched out and other fish that often hide during the day swimming around.
After two days of fantastic macro diving around Isla Angel de Guadia we woke up at the tiny speck of an island called San Pedro Martir. This little rock is well known as a home to thousands of sea lions. With clearer water and the chance for larger animal encounters, I switched to the wide angle lens and off into the water we dove.
Diving from the Rocio del Mar is easy. Don your gear aboard the boat and walk down to the large dive deck. This deck sits right at water level making it easy for the "panga" (rubber inflatable dinghy) to pull up alongside so you can step from the large vessel to the small one. Sitting on the inflatable tubes we donned fins and zipped off to the dive site. Our longest ride was possibly ten minutes. The crew was always very helpful assisting you into and out of the pangas, getting fins and camera gear aboard. Once back from the dive they would bring up your gear and start filling tanks.
Speaking of the crew, they were excellent. All extremely helpful, pleasant and ready to assist. Not only were they helpful and friendly, you really felt as if they truly cared that your experience was exceptional, not that they were only doing their job. They made conversation and were happy to answer all questions, and most spoke English extremely well. Several of the other divers remarked on how great the crew was throughout the trip. One thing that I loved were the intricate dive site drawings the two divemasters, Gilberto "Gil" and Esteban "Pato" would create before each dive briefing. These really helped you know what to expect and plan the dives.
Diving in the very warm waters around San Pedro Martir, with temperatures varying between 82-86º, we explored large walls with sweeping fields of black coral (named so because once dead after harvesting the dried shell of this coral is black, however alive and well underwater is is bright yellow). Some sites had currents running, so we would drift along taking in the sites. While we did not get to experience the big groups of sea lions all playing in the water with us thanks to several large and dominating males who trumpeted along the perimeter of their territory, keeping the inquisitive adolescents and females inside, we did have a variety of sea lions join us in the shallows, dancing and swimming circles around our group. In addition to the sea lions we saw sea turtles swimming through, large moray eels and even mobula rays swimming in the blue.
We spent two days at San Pedro Martir before moving for a day at Sal Si Puedes Island. Further north again, this brought us back to the cooler waters, around 76-79º around this island, and back to the macro lens. We had excellent dives at El Lavadero and Los Cuervos, both teeming with life. On these dives our divemasters instructed us to gently settle on the bottom once they spotted a giant jawfish poking his head out of a hole. These fish, with heads about the size of a grapefruit live in a network of holes in the sand, swimming out to grab food before sliding back inside. Armed with pieces of fish and shrimp the divemasters would entice the jawfish out of their homes so we could watch them in action. It was great to watch them lunge for the fish and then slide back into their burrow. Once finished we carefully added a bit of air to our BCD's so we could float up and away from their homes without destroying the sensitive burrows with a misplaced fin kick. The rest of these dives was spent exploring along the rocky reefs hunting for more critters to capture through my lens.
The final two dives, El Caballo and La Corona were not as great as previous dives. With stronger current and cloudy visibility we wrapped up the diving for the trip. Once more the captain and crew jigged for humbolt squid, our third attempt after the first night was cancelled by the wind and we were skunked the second. Unfortunately we had no luck luring one of these giants up to our boat.
One more move during the night and we woke up on Friday morning just outside the Bahia de Los Angeles, home to many graceful whale sharks. With an early breakfast we headed out for a day on the water following these giants around the waters of the bay while they cruised and fed on the abundant krill and plantkton. Encountering these creatures in the water is mind blowing, they hang vertically while sucking in large amounts of water and food, then swim with long slow movements deceptively moving faster than we could keep up. The Bahia de Los Angeles is a Mexican National Park, and the locals are working to turn the fishing town into a port of touism, with the local whale sharks as the main draw. The Rocio is required to rent local boats to take us into the bay and snorkel with the sharks, and our guide, Marco Blanco, was excellent. My group braved the beating sun and capitalized on our time, staying out the full 6 hours.
Friday night as the boat prepared for the long haul back to Puerto Peñasco our group enjoyed our last dinner, then gathered upstairs in the lounge for a slideshow review of everyone's favorite images and video clips from the trip. We reminisced on the fantastic week of diving and commiserated about having to return to reality. The crossing back was calm, and Saturday morning we woke up in Puerto Peñasco, our trip at an end.
 Interested? Join us in 2016!
Click the dates above for more information on our two group photo workshops for 2016.