Sailfish with the Sony a7R II
Sailfish with the Sony a7R II
Mar 09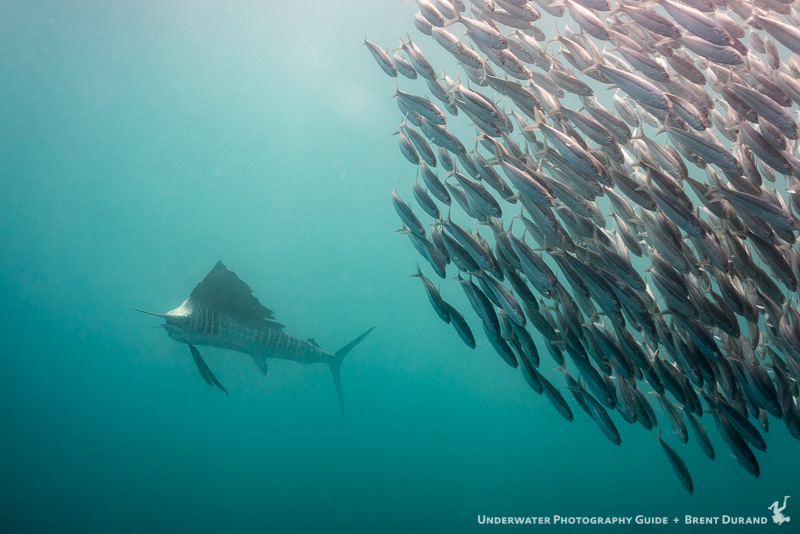 Swimming with sailfish is a special experience. But it's different from most dive trips because you need to mix hard work with planning and luck to get a shot. There's no guarantee that you will see the fish, there's no guide to help you capture the perfect shot if you do find the fish, and the weather can make or break your entire day. But this is exactly what I loved about the experience on the Bluewater Photo small group trip to Mexico's Yucatan peninsula the week before last.
–> Check out Bluewater Travel's 'Best of the Yucatan Travel Special'.
How do you find the bait ball and hunting sailfish? Easy. You watch the frigates. By carefully observing their flight and maneuvers, a trained eye can tell what type of fish the birds have found. When their movements are just right, we went full throttle towards the action, often racing fishing boats who have spotted the same thing.
Over three days scheduled to look for sailfish, we got out on the water for 2.5 days. One of the days was pretty rough, but all were enough that you had to be very careful moving about the boat.  And of 5 or 6 baitball sightings we jumped in the water a total of 4 times. We saw the sailfish on 3 of those jumps for a combined total of maybe 30 seconds with the fish and baitballs. The photos below are from our brief encounters.
A big thanks to a really fun group on this trip!
– Brent Durand
Sailfish Photos
All photos shot with Bluewater Photo's rental Sony a7R II and mirrorless lenses like the Sony 28mm lens + fisheye converter in Nauticam a7R II housing.