The G2 Gallery Presents State of the Sharks
The G2 Gallery Presents State of the Sharks
Dec 28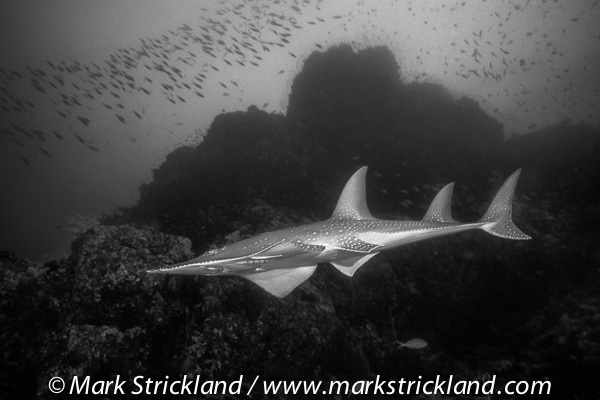 From January 15 – March 3rd, 2013, The G2 Gallery will premiere State of the Sharks, a new exhibit of photography that highlights the beauty and vulnerability of the ocean's top predators.  The exhibit seeks to educate the public and raise awareness for the plight of sharks in anticipation of the biennial C.I.T.E.S. convention, which will consider listing sharks as endangered species in March of 2013. Many photos were taken in the best shark diving in the world.
State of the Sharks was photographed by Mark Strickland and Chris Huss, veteran divers concerned by the drastic decline of sharks in recent years. "Sharks are incredibly misunderstood creatures," explains Strickland.  "They're widely viewed as mindless killers, but attacks against humans are actually very rare." As top predators, sharks are essential for a healthy ecosystem; without them the entire marine food chain loses its balance. Disturbingly, over-fishing and habitat loss, exacerbated by low birth rates and slow maturation are global threats to sharks' survival, bringing many species to the brink of extinction.
The G2 Gallery will donate all proceeds from the exhibit to benefit the non-profit conservation organization, Shark Savers.  Archival quality prints will be available in a variety of sizes and mediums. An opening reception will be held on January 19, from 6:30–9:00 pm.  Admission to the event will be $5 at the door and all proceeds will benefit Shark Savers.  Live music, wine, hors d'oeuvres, and complimentary valet parking.  The gallery requests an RSVP if you plan on going to the reception.
Location:  
The G2 Gallery (www.theg2gallery.com)
1503 Abbot Kinney Blvd, Venice, CA 90291-3742
Tel. 310.452.2842,
E-mail info@theg2gallery.com
About Chris Huss
For over 30 years, Seattle based photographer Chris Huss has been making images across many genres.  Most recently, he has turned his attention to using his photography as a tool to aid the conservation and protection of wildlife and the environment.  His passion for marine life, in particular, began at a very young age, and as an adolescent he began shooting underwater using a plastic bag over his Instamatic.  He graduated with a degree in photography and filmmaking from the University of Washington in 1981 and embarked on a career that includes countless credits, awards, and over 2,000 weddings and events.  Chris's images have been featured in The New York Times, National Geographic, Vogue, Time, ABC and have been used by the World Wildlife Fund, Greenpeace, and the National Oceanic and Atmospheric Association.  Corporate clients include Alaska Airlines, Hallmark, and Nikon.  His work on behalf of sharks is just one of several projects in progress that are geared toward promoting awareness of the oceans and marine life.
About Mark Strickland 
Mark Strickland's career has been guided by his passion for the ocean.  Over the years he's completed over 10,000 dives and served as an ocean lifeguard, boat captain and diving instructor.  He also spent 17 seasons as Cruise Director and Photo Pro on a series of live-aboard dive boats in Thailand.  Having spent much of his life observing underwater ecosystems, Mark has developed a reputation as a marine naturalist, and has discovered several nudibranch species including his namesake, Halgerda stricklandi. Co-author and primary photographer of Lonely Planet's awarding book Diving and Snorkeling Thailand, Mark's work appears in books and magazines worldwide, including BBC Wildlife, Conde Nast Traveler, Geo, National Geographic World, Nature's Best, Natural History, Outside and most major dive publications. Based in S. California, Mark generally prefers warmer waters, leading trips to tropical destinations several times a year. He's also a dedicated environmentalist, working closely with several conservation groups including Shark Savers and Ocean Artists Society.
About The G2 Gallery
The G2 Gallery is an award winning nature and wildlife photography gallery that facilitates change by bringing attention to environmental issues through the power of photographic art. G2 shares this passion with both celebrated and emerging environmental photographers, who use the camera as a tool to inspire conservation.
More Information
Click here and scroll down to hear an audio interview as Mark shares some insights about shark conservation with The G2 Gallery's Jared Nigro.