Fast Focus with the 7D Mk 2
Fast Focus with the 7D Mk 2
Jun 29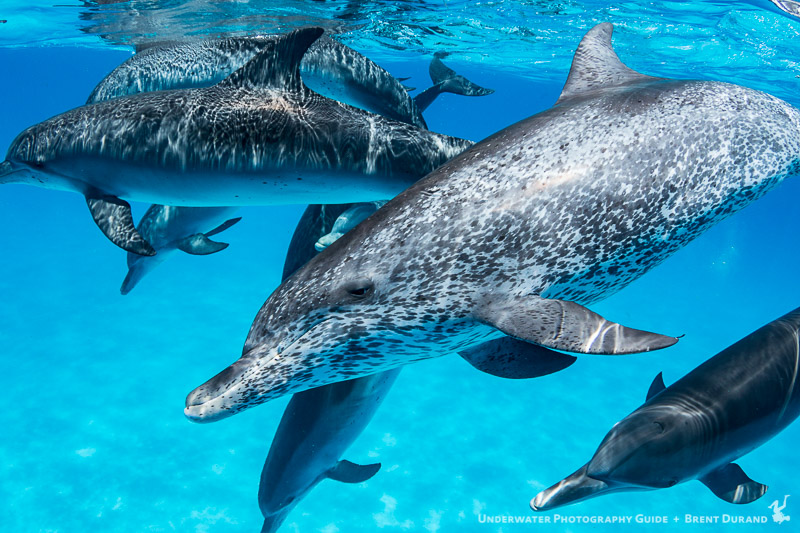 The Canon 7D Mark II is one of the top choices for underwater photographers.  I've used Bluewater Photo's rental 7D Mark II on my last two trips, logging over 75 dives and several hours snorkeling with the camera.
We've discussed the macro merits in Macro with the 7D Mk II, and how incredibly sharp the images are with the Canon 100mm macro lens and SubSee diopter, but now it's time to dive into autofocus for wide-angle shooting. Atlantic Spotted Dolphins in Bimini, Bahamas provided the perfect test, pairing the 7D Mark II with the wildly popular Tokina 10-17mm fisheye lens. This combo, used with Canon's dual-pixel AF sensor, is incredibly fast when shooting single photos and when tracking moving subjects. Below is an overview of the system.
Autofocus Drive Modes
Single:  This mode is great for capturing a moment of dolphin action, ensuring that the dolphin is in sharp focus before the shutter is released.
AI Focus:  This mode is designed for stationary subjects that may move, and is not often used in u/w photography.
AI Servo:  This focus mode will continue to track the subject as long as the shutter is half depressed.  It's a great option for rapidly shooting multiple frames of those fast-moving dolphins. Advanced shooters can even check out back-button-focus for more ergonomic subject-tracking.
Autofocus Area Groups
The Canon 7D Mk II has seven different AF area selections, but I generally use two for underwater photography: Single-Point Spot for macro and Point Expansion (4) for wide-angle. For shooting the dolphins in Bimini, I used the trusty AF Point Expansion (4) group. This group is based on a single point of focus, but uses extra AF points on top, bottom and sides to acquire and track focus. Once you move into the larger AF groups (AF Point Expansion 8, Zone AF), the camera starts to look for the closest part of the subject falling within the point group, which may not precisely fall on the eye. That said, the Tokina 10-17mm fisheye produces a very wide-field of view, so small details like this likely won't matter (there will be enough depth of field in your image). Learn more about Fast Focus Underwater.
Dolphin Photos
The next step is just getting out there with the dolphins so that you can capture some great photos!
Want to learn how to apply these settings to real life shooting situations?  Join me for a photo workshop:  Bali, the Lembeh Strait, La Paz Mexico, Sri Lanka for whales, or reefscapes in Alor, Indonesia.  Full workshop schedule.
– Brent Durand