When Necessity is the Mother of Invention
When Necessity is the Mother of Invention
Jun 29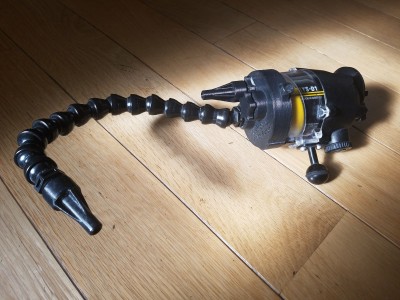 When Necessity is the Mother of Invention
– By Erik Lukas
I've always been sort of a do-it-myself type of person…and I love the challenge of finding a good solution to a problem. Such was the case recently after a recent macro ​photo workshop in Anilao, Philippines​ where I shot extensively with my ​Reefnet Fiber Optic snoot​. I discovered two issues that I felt needed some attention. First, was where and how to carry the second tip while diving. The second issue was losing these snoot tips. Let me explain….
This great light modifier comes with two tips, a large and a small, which are easily changed during a dive by simply screwing it on or off the snoot arm and replacing it with the other one, but only one is used at a time. So the challenge was where to keep the extra snoot tip when it was not being used. I've tried tucking it down into the neck of my wetsuit, in the sleeve just above my wrist, in my glove, etc. Which leads me to problem number two; at the end of a dive when I pull the wetsuit off forgetting about the spare snoot tip it generally goes flying into the deep blue, not to mention the simple issue of misplacing the spare tips before or after a dive. There must be a better way.
I should mention I am also sort of a minimalist…my BCD doesn't have pockets, I don't like lots of things hanging off of d-rings, and I sort of despise bringing extra 'stuff' with me on dives. So I got to thinking about the best way to secure the additional tip and ran through a few iterations before the strobe in my head lit up.
The Reefnet snoot comes with all the parts needed to make a simple yet perfect modification. Anyone who has used or seen this snoot will know that most models allow the attachment of two snoot arms. When only one is used, the second opening is occupied with a plug that would otherwise block the strobe light. It simply screws into place, and it turns out the thread is the same size and pitch as that on the end of the snoot arm that the tips attach too. Perfect!
A few email exchanges with the team at Reefnet and a package arrived containing a few extra tips and ports needed for the modification. A trip to the hardware store for some plastic bonder and I was ready to tackle this project. Please be cautious if you decide to modify your snoot, and use a "plastic safe" adhesive or epoxy, as many of these can adversely react with plastics and cause them to melt. I used J-B Weld, two-part plastic bonder, which worked perfectly. For those of you who are more adventurous, another option would be the use of Methyl Ethyl Ketone (MEK), which is a powerful solvent that will actually melt and then fuse the snoot materials together, which will create a fused and welded bond of the components.
All I did was attach a spare port plug to the snoot base facing outward, which could be used to screw the spare tip onto. It functions as a simple screw-on, screw-off holder. Very simple, but perfectly effective. I can now dive with both tips and replace them quickly and easily during a dive, and most importantly I won't be losing any more tips.